Historic Downtown Elkin is made up of committed individuals and businesses who work together to preserve the charm and history of Elkin.
Downtown Elkin, Inc. was incorporated as the Elkin Merchants Association on December 13, 1933. Early business leaders L.G. Meed, E.E. Hayes, A.L. Griffeth, A.O. Bryan, E.S. Spainhour, J.R Poindexter, and F.M. Norman received Charter 121 from the North Carolina Merchants Association incorporating the Elkin merchants. Initially, one of the major membership benefits was affordable group insurance to the business owners and their employees. As a group, they also established similar downtown business hours.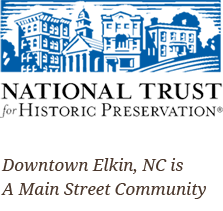 The downtown Elkin historic district has witnessed many changes over the past one hundred plus years. A major fire in 1898 destroyed many of the early wooden structures. Yadkin River floods in 1898,1916, and in 1940 damaged many buildings and left the river bottom in ruins. Despite these changes, our downtown recovered and continued to grow. Four businesses on Main Street were established over 60 years ago. The local newspaper The Tribune, began in 1911. Royall's Soda Shoppe has been in business in the same location since 1923. Originally known as Turner Drug, this building was also home to Elkin's first hospital located on the second floor. In 1953 the name was changed to Royall Drug by the owner George Royall, a former Elkin mayor. Elk Pharmacy was established in downtown Elkin in 1939 and has been in it's current location since 1976. Kennedy Auto began in 1943 by John Kennedy, Sr. It has been owned and operated by the Vestal family since 1953 and is located in the old J.C. Penny building.
Downtown Elkin, Inc. is a membership organization open to Main Street and designated downtown area businesses. Monthly meetings are held on the second Thursday at 8:30 a.m. at the Yadkin Valley Chamber of Commerce. Its mission is to promote, improve, and assist downtown businesses in making a positive impact on the Elkin community, through cooperative advertising and sponsoring downtown events.
---
In The News
Savoring the Flavors of North Carolina's "Napa" (Washington Post article)
Details: Yadkin Valley Wine Trail in North Carolina (Washington Post article)
---
Resources