Visit Downtown Elkin, NC
History, Charm and Fine Shopping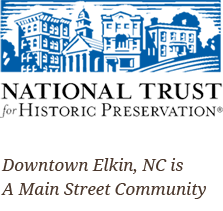 Are you looking for hometown charm, historical landmarks and fine shopping and dining — all nestled in the foothills of the Blue Ridge Mountains and in the center of the Yadkin Valley? Then come to Elkin, North Carolina! Forty-five minutes from Winston-Salem, 25 miles from the Blue Ridge Parkway, and thirty minutes from the Virginia border, downtown Elkin combines the charm of a small town with specialty stores and events you'd expect in a much larger city.
Stroll our streets and find galleries and one-of-a-kind shops as well as all the services you require. Then relax and enjoy a bite or something to drink at one of our fine downtown restaurants.
We're a great starting point for dropping in on a festival, exploring the local wineries, or touring the historic sites and scenery around us. Spend an hour or spend the day, you're sure to enjoy the charm that is Historic Downtown Elkin, North Carolina.